Accommodations B&B Lentemaheerd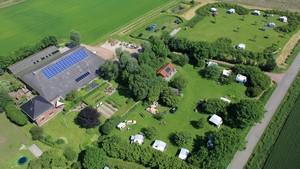 Lentemaheerd offers several types of accommodations. From a warm and cosy hotelroom in the Farm Hotel to a special night in the Circusvan. Or if you prefer a original way of camping you can choose between two of our camping areas from the Camping site. One with cosiness among the fruittrees, the other with the peace and wideness of North-Groningen.
Don't you have camping stuff at your disposal? No problem. Just rent the beautiful double trailer with a large tent.
Our accommodations
Also accommodations for disabled people
For every type of guest a suitable way of celebrating holiday is possible, because of the several types of accommodations. Also disabled people can celebrate there holiday at the Lentemaheerd through the various adjustments in the Farm Hotel and at the camping site. For disabled people the Farm Hotel has two special rooms and at the camping site there is a special bathroom. The Farm Hotel is also suitable for groups and meetings.
For more information about the several types of accommodation, look at the right menu.