Farm hotel
Country side hospitality combined with hotel luxury.
Seven rooms are situated at a place where horses and cows used to be. Every room has its own interior design and unique atmosphere. Certainly there is a comfortable room that suits your desires in the Bed and Breakfast. Each room contains a bathroom and toilet with pleasant under floor heating.
The most explicit room of the Farm hotel, contains an old Dutch box bed knows as a "bedstee", a special experience.
Breakfast is served in the living room, which is as beautifully decorated as your room. And after breakfast? You again can discover Groningen and its beautiful villages and Waddensee.
Seven rooms, of which two are accessible for wheelchairs
Shower, sink and toilet that belong to your room
Bathroom with under floor heating.
TV in every room
Free Wifi
Unlimited coffee and tea in the living room
Living room with extensive kitchen, TV, DVD, dining table and cosy seats.
Extensive tourist information at the reception
Box spring beds (except for one room, where one can find a "bedstee")
A "green" Bed and Breakfast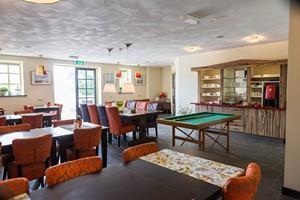 We try to be as sustainable and environmentally as possible to protect the environment. For example the Farm Hotel has under floor heating which is heated by geothermal energy. Besides that the barn has nearly hundred roof-mounted solar panels that collect our energy. The solar panels give enough power to cover 50% of our energy use. Next to that our solar water heating system heats the water. Furthermore, we separate all the trash from the entire company. With all these actions we try to get the farmhotel as "green" as possible.