Camping site Lentemaheerd Groningen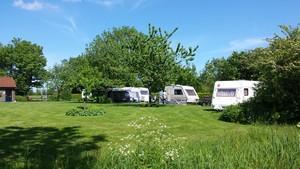 Camping at camping site Lentemaheerd is a present. The soft green grass, various fruit- and nut trees and surrounding bushes provide some shelter. It is a pleasure to camp amidst the magnificent landscape of Groningen. The beautiful sights and skies ensure that you never want to leave camping site the Lentemaheerd. Enjoy the relaxing peace, natur and sea of the North of Groningen.
If you visit us with a tent you can make use of the fridge and leisure room for free. And if the weather is disappointing this room also functions as a good shelter. It is possible to read a book, have a nice chat, play a game or simply watch TV.
Camping site Lentemaheerd contains you:
25 wide, car-free spots for a tent or trailer
Electricity for every spot (10 Ampere)
Free WiFi on the whole camping site
Lights on the field
Sanitary with under floor heating (pleasant luxury)
Three clean toilets and three showers
A disabled bathroom with a toilet
A covered sink with warm and cold water
Laundry facilities
Chemical toilet
Playground with trampoline
Parking facilities
TV in the leisure room
Rent period: 1st of April until 31th of October